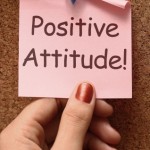 "Ability is what you're capable of doing. Motivation determines what you do. Attitude determines how well you do it" .
Lou Holtz
Notre Dame Football Coach
Today I want to talk about a word that can have a great impact whether it is used for good or bad. Its weight and height unknown but this word comes in with many wins and many losses. He can come as a real gentlemen but I must warn you that other times he's ready rumble. What is this word? Well it's the always talked about word attitude.
What is attitude? A state of mind or a feeling; an inward feeling expressed by behavior; a frame of mind affecting one's thoughts or behavior.
This word attitude will cause people to draw near to you or it will run people away from you. As you are reading this right now, what is the state of your attitude at this time in your life?
What's your win/loss record when it comes to your attitude? Are you winning in this fight or do you often find yourself recovering from a technical knockout?
Even if your record is good we both know that there is always room for improvement. You must keep working at it if you are going to reach the place of excellence. How many times have you turned people away or not wanting to be in your presence because of your bad attitude?
Your attitude is everything, and is an important factor in everyday. It must spread across both your personal and professional life.
Do you find yourself showing a good attitude when you're at work, and then it takes a drastic turn when with your family? Do you have them wondering who upset you at work today? Well every one of us has to work on this in our lives. If you want to have more wins in this area of your life you have to continually work on it.
You don't want to be losing relationships with your family because of a negative attitude. Remember the image and conduct you betray people liken it to whether you are truly following Christ's example. It will be a sad thing to know that people are scorning Christ and church because of the attitude you demonstrated. When you look through your life does anyone come to mind?
Most definitely, you don't want to be losing customers or business because of a poor attitude. How much more can your business gain if you maintain a good and positive attitude? My friend you can have an advantage over others by keeping a positive attitude. You and I know that we all like to be around attractive things. It doesn't matter how good your product is, people remember the kind of service you give. The attitude behind it will long be remembered.
Before I go, yes I do agree that it can take quite a bit out of you to keep your attitude in tip top shape. My friend you cannot get good results if you don't put the time and effort in.
And just how can you improve your attitude?
1. Associate with positive attitude people.
2. Watch and learn from others who you look up to.
3. Be the first to greet others.
4. Do an act of kindness every day.
5. Be happy and rejoice with others success.
6. Be quick to settle disputes and don't hold grudges.

Here are some of the benefits of a good attitude:-  Increased friendships, more peaceful family gatherings, see your church membership grow, more productive professional life and business.
For some people it seems so easy and you may be having the fight of your life. My words to that, keep fighting and when you're through, keep fighting. Let your attitude take you to another altitude.
Take care until………and God Bless ya
http://instepwithchrist.com/
Are you ready to face eternity? If you have not you accepted Jesus Christ as your Lord and Saviour and desire to make that commitment now please repeat the following prayer:
Lord Jesus be merciful to me a sinner. I realize that I have sinned against you and come short of your glory. I confess that Jesus Christ is Lord and I believe in my heart that God has raised him from the dead. I pray for your forgiveness and ask that you save me now and accept me into your kingdom. Give me eternal life today.
In Jesus Name, Amen.